High-rise Condominium Installation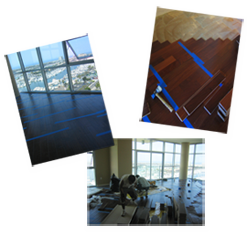 Our company is specialized in installing wood flooring in high-rise condominium or multi-level building based on extensive experience of completing over 500 projects only in high-rise condominium or commercial building.
In general, HOA and city requires very strict guidelines when it comes to installing hard surface flooring in multi-level building as it could cause sound proofing problem in the building between residents when it is not properly installed. As a result, they not only allow only licensed and insured contractors to perform the work but also they provide particular rules to follow such as installation of special acoustical underlayments and conducting sound test to measure the penetrating rate of sound.
With this strict guidelines of each HOA and city, a lot of owners struggle with finding suitable contractors who can accommodate all these rules and codes without failing and successfully install the wood flooring in high-rise condominium or commercial building. Stop worrying. We are here to provide you one-stop service for you.
Our company can offer flawless works from getting approval or permit from HOA and city to passing the sound test at the end in no time without any pain of you. Please contact us for more details.
VENETIAN FLOORING SYSTEMS, INC, CA LIC# 976650
SHOWROOM VISIT APPOINTMENT ONLY. PLS CALL FIRST
(MINIMUM 24 ADVANCED NOTICE IS REQUIRED)
Telephone: 949-680-0746 FAX: 949-861-3994
E-mail: venetianflooringsystem@gmail.com