Hardwood & Laminate Installation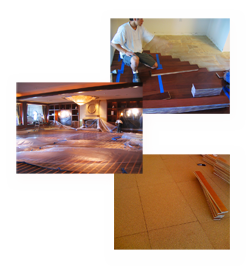 Whole process of installation will be in control of our trained and skilled professional installers. You can rest assure that your project will be completed on schedule with the best craftsmanship and detailed attention.
On the day of installation, our knowledgeable professional will go over the scope of work with you once again to guide you every aspects of installation from the beginning to the end. As a courtesy, we move around big piece of furniture if necessary, but we want to ask customer to put aside any valuable and breakable furniture or small accessories. The installer will check the moisture level on the sub-floor and prepare and clean sub-floor accordingly. We mainly provide the most popular and updated two types of installation methods in wood flooring industry nowadays.
First, glue-down installation is the most common and stable installation method when installing engineered wood on any grade level including a plywood and concrete sub-floor. It is very essential to prepare even and clean sub-floor before installation. Once it is properly installed using this method, it is very beneficial in that it can be quiet with less creaking when the floors expands and contracts.
Second, we recommend floating installation method using foam underlayment, which provides the moisture and sound reduction function. It's not adhesived directly to the sub-floor by glue or nail. It just 'float' over the sub-floor using manufactured interlocking system called 'tongue and groove', which allows two different panels to be clicked and locked together. This design allows the installation fast and easily repaired and replaced as it is need later.
At the end of work, we clean your new floor thoroughly and get rid of any debris related to our work. Finally, we conduct the final walk through with you in order to ensure you are completely satisfied with our work.
Now, your beautiful new wood floor is ready and all you have to do is simply walk in and enjoy it for the rest of your life!
VENETIAN FLOORING SYSTEMS, INC, CA LIC# 976650
SHOWROOM VISIT APPOINTMENT ONLY. PLS CALL FIRST
(MINIMUM 24 ADVANCED NOTICE IS REQUIRED)
Telephone: 949-680-0746 FAX: 949-861-3994
E-mail: venetianflooringsystem@gmail.com