Initial Consultation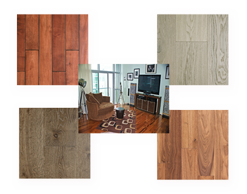 Call us anytime to set up an absolutely pressure & cost free
in-home design consultation. What you can anticipate during
in-home consultation is that not only we measure the space where you wish to put wood flooring but also you can explore numerous brand wood product board samples as we deliver the showroom to your doorstep.
Having an initial consultation in actual work site is very critical in that our professional can analyze space, structure and sub-floors to find what type of prepping work would be required. It also helps us to determine on necessary accessories such as moldings, stair noses and baseboards and so on. In addition, it provides you the better chance to visualize the final look as you can get a chance to compare the wood samples to the color of wall painting, cabinets and furniture of your current house or office.
In-home consultation is free and available throughout the week and it may take as little as thirty minutes up to an hour depending on the size of the work.
VENETIAN FLOORING SYSTEMS, INC, CA LIC# 976650
SHOWROOM VISIT APPOINTMENT ONLY. PLS CALL FIRST
(MINIMUM 24 ADVANCED NOTICE IS REQUIRED)
Telephone: 949-680-0746 FAX: 949-861-3994
E-mail: venetianflooringsystem@gmail.com